3 pepper colours - 1 plant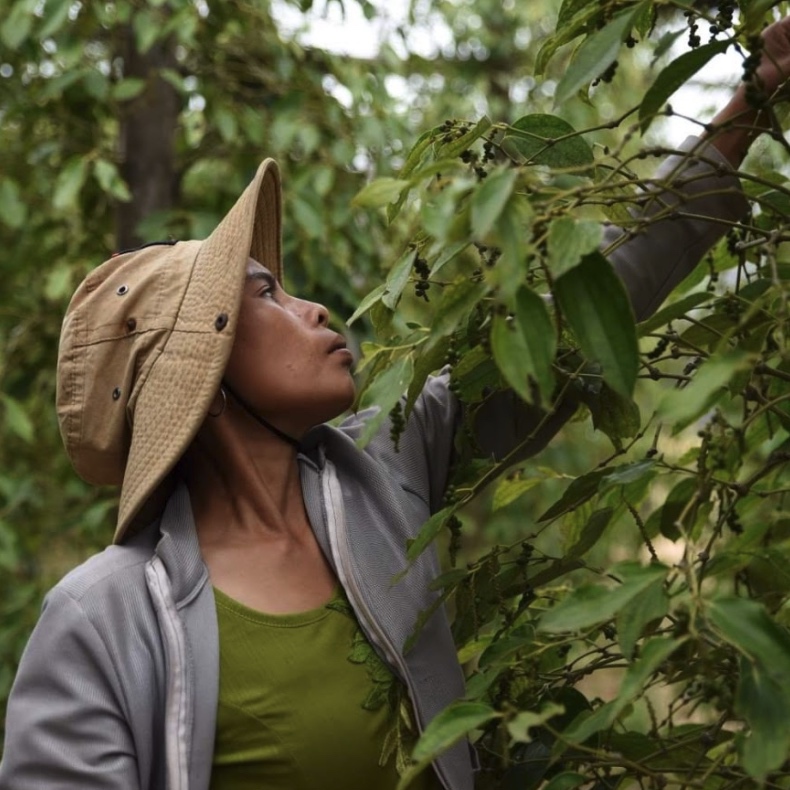 The most important spice in the world. That's a simple way to describe the small peppercorns that, together with salt, form the basis of the world's gastronomy. Their taste is pungent, woody and sometimes surprisingly cheeky, which enhances the flavour of the dishes to which they are added. Depending on the ripening period, a single pepper plant produces a number of colours, and combining them correctly with dishes is a bit of an alchemical mystery, which we will now try to unravel.
Piper Nigrum, or black pepper tree, is the name of the plant whose fruits are commonly known as pepper spice. This plant has a number of subspecies which produce differently flavoured fruits. In addition, different cultivation and processing methods affect its quality. It is divided into black, white and red pepper.
Black pepper
The most widely used form of pepper spice is obtained by harvesting the still immature green or slightly yellowish fruits of the pepper tree, which are then dried in the sun. This gives them their characteristic ashy brown hue and wrinkled texture. Kampot pepper has the privilege of having huge, dark black peppercorns - the blacker the better! If your pepper is greyish, it is a sign that it is already old and tasteless. This pepper is pungent and very aromatic.
Red pepper
The red colour of pepper is not a sign of sharpness, but of mildness. These are pepper fruits harvested at full maturity. Its taste is characterised by its mildness and fruity notes, which make it suitable not only for savoury dishes but also for desserts. It goes well with chocolate, for example. Now and then you can also find it in a drink, to which it is also popularly added. However, unfortunately very often it is confused with the Brazilian pink peppercorn from South America.
White pepper
The last variant of the traditional peppers is the white pepper, with an absolutely perfect texture lacking that wrinkle. This is due to the way it is obtained, in which the red skin is soaked and then removed after maturing. As a result, the white pepper boasts a flavour that lacks the aggressive pungency, but rather has floral notes with a slight hint of fermentation. White pepper is an ideal choice for milder, lighter meats and, together with red pepper, it also perfectly complements fish and seafood. But we use it for anything, as it perfectly enhances the flavours in the food without overpowering them.
So what is green freeze-dried pepper?
We developed the world's first green freeze-dried Kampot pepper with salt on our Czech machines - simply put, we took fresh green pepper directly from the stem and packed it in a brine without further drying. This way it arrives safely to the Czech Republic and here we freeze-dried it on Czech freeze-dryers - the taste remains the same as fresh pepper, but it is not so pronounced and it can be eaten just like that - individually by peppercorn!