All about red Kampot pepper. Why is it so rare?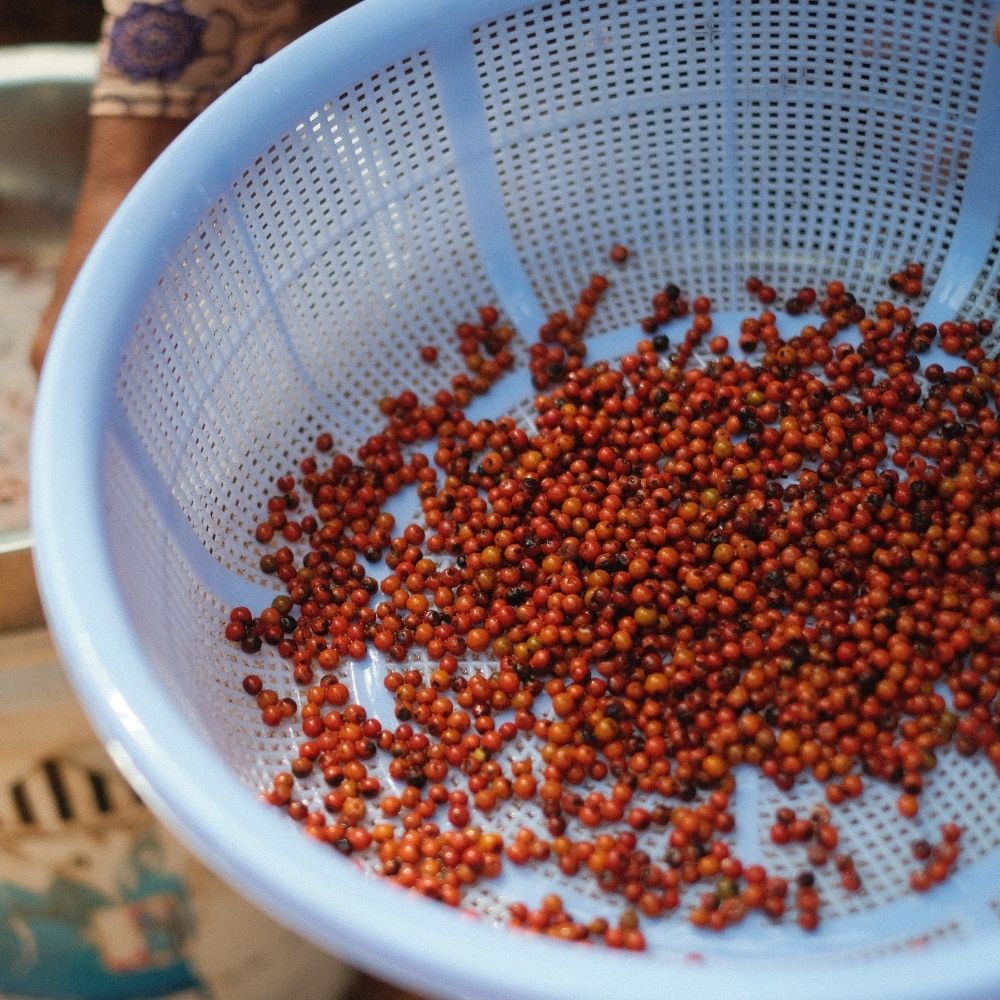 Red pepper is the sweet flagship of Cambodia - the true champagne among pepper and one which only a few countries in the world can grow. Why? The harvesting process is extremely demanding and the climatic conditions to ripen the grain must be perfect - a combination only the Kampot region of Cambodia, renowned for its genuine red pepper, provides.
You might only produce one cup of red peppercorns per day on one farm
This is why making it is extremely rare. Red Kampot pepper is harvested when the full peppercorn reaches its maturity stage, which is usually at the end of the season in April/May. At this point, the peppercorn has been ripening in the sun for several months before turning fully red and full of juicy fructose. Unlike black pepper, it is not harvested by the complete stem, but rather, the farmer carefully watches until one of the balls on the stem ripens to its orange-red colour and plucks it at that moment - that single ball.
Due to its long maturation, this pepper is moister and juicier than all the others (you can eat it as is!) but also the most susceptible to cultivation. It also attracts small birds with its colour, who love to eat it, so each ball is very precious. Red pepper is boiled in hot water after harvesting, then cool and dried in the shade.
The cherry red balls are incredibly sweet and fruity, the first things you smell are berries, apples, roses, cherry and rosehip. They don't burn at first, but after one minute the spiciness of the pepper develops and conjures up a literal pepper explosion in your mouth. It is said to be the most aromatic pepper in the world.
Did you know that only from real red pepper can you get real white pepper?
It is the inner seed, which is obtained by soaking the red pepper in water and peeling off the skin. Common white peppercorns in shops are incorrectly obtained by peeling black peppercorns, which are immature and become rancid when peeled.
Beware of fake peppers!
Pink pepper, commonly available in spice blends, is a pretty colourful pepper, but it grows on the branches of the Brazilian pepper tree, so it's only a poor relative to the true pepper. Likewise, cayenne pepper, the name of which is a mistranslation, is ground chilli pepper. So the red pepper you have experienced thus far is not actually a true red pepper at all and has completely different flavour characteristics.
But what to do with red pepper in the kitchen?
This pepper is used in the complete opposite way as to black pepper. Don't put it on meat - it's only good with fish or seafood, but as the king of cold dishes, you'll love it in combination with vegan and vegetarian dishes, salads, vegetables, eggs, vegetable soups, risotto, sweet desserts and cocktails. In Czech cuisine, it is a popular spice for Christmas baking - in fact, the Czech word gingerbread is originally derived from pepper, which used to be an integral part of it!