Burn it from the heart / The most common questions about engraving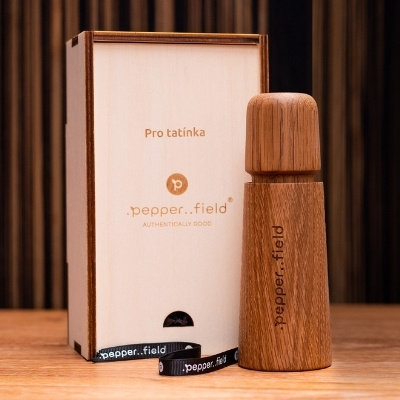 For you, engraving is an opportunity to make a loved one or business partner happy. For us, it's an opportunity to offer even more tailored solutions to satisfy your needs and create your gift the way you want it. Once upon a time, messages were engraved by hand - we can now engrave a message, logo, quote or even an ornament with absolute precision and speed thanks to modern technology! Even in this day and age, a personalised message is something that your partner, friend and client will appreciate more than a simple shop-bought gift. What's more, this exquisite engraving has absolutely precise and perfect results. And to top it off, it brings with it the nostalgic smell of a campfire. ☺ 
Since you're very interested in engravings on our Kampot pepper sets, especially now before Christmas, we've put together a selection of frequently asked questions:
What design can I have engraved?
Any messages, monograms, dedications, dates you write to us. The important thing is to think about what will look nice on the box. In our experience this means a short dedication, name(s), or maybe a short quote of up to five words.
What font can I choose?
As standard, we engrave in the font that best suits our wooden box and gives off the feeling of elegant, hand-engraved work. If you have a special request to make, we will be happy to work with you individually to tailor the engraving to your requirements.
What material will we engrave your message on?
We offer the option of engraving on any wooden gift set with Kampot pepper. On a solid and flat lid the message will stand out best and the recipient will have a beautiful memento for life. Engraving makes your gift a truly beautiful personal memento.
How much will it cost me and when will the package reach me?
We offer engraving with our gift sets free of charge. Once the order is processed through our system, we will start working on it. We assemble all sets for engravings once a week, so yours will arrive to you within 14 days. If you're in any particular rush, you can pay extra for an express engraving with us, which we handle immediately and ship within 48 hours.
How can I order an engraving?
There is a special section on our e-shop where we show you all the kits that can be engraved. You simply add the engraving to your basket as well as your chosen product. Just write your personal message and that's it! Then all you have to do is complete your order.
How do I check the engraving once the gift is wrapped?
If we engrave the gift set, we no longer wrap it in black paper. This is just so you can check your message with your own eyes and not give someone something you haven't seen personally. The set will still be beautifully hand-assembled and tied with our black ribbon.
And what if I'm a business and I want to order a large quantity?
We are happy to engrave large numbers of gifts for companies, organisations and agencies with their logo or everything else that they might choose. We make everything as customized as possible so that your clients or business partners are satisfied and enjoy both - our premium Kampot pepper and the luxurious feel of the gift wrapping. We can quickly handle orders, even in large quantities up to 500 pieces. 
The way it works for us is that we always work together to decide what would be best and fine tune everything down to the last detail so that you are satisfied. Then we begin constructing your story so that it has a beautiful evolution. Our greatest pleasure is when you share the joy your family member, partner or friend experienced upon receiving one of our engraved Kampot Pepper gift sets! Because happiness and joy (and our pepper) is the true spice of life.