Do you know how quality pepper tastes?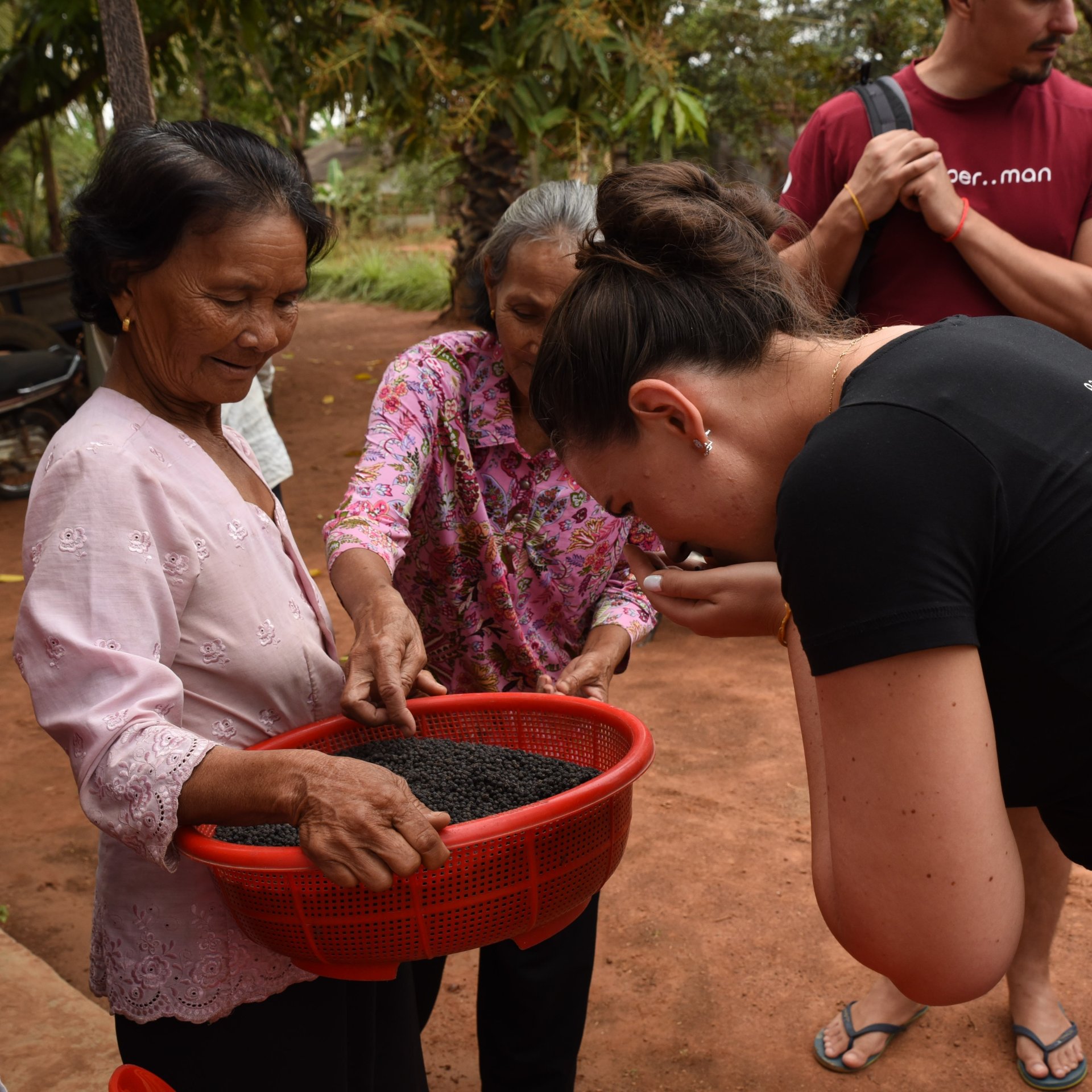 You may be wondering if we're playing you for fools. After all, everyone knows the taste of pepper! In many households, however, we most often come across pepper which is of very low quality. Let's go on a journey together to discover the secret of real quality pepper, which charmed us a few years ago and turned our lives upside down. :)

We are not sellers of hundreds of exotic spices from all over the world. All we care about is pepper, and the best pepper in the world. That's why we only offer pepper imported from the Kampot province of Cambodia in Asia, which we fell in love with from the moment we visited.

You'll know the difference immediately

The difference between Kampot pepper and the pepper commonly available in the supermarket is obvious at a glance. Compared to regular peppercorns, Kampot peppercorns are larger, much fuller, have a perfect texture and, above all, a uniquely rich colour. In contrast, supermarket pepper is bland, often bears signs of mould and its texture is more like a deflated balloon than a grain full of pepper dynamite. The most common 'supermarket' manifestation is peppercorns of completely different colour, consistency and size in the same bag - indicating the unclear origin and age of the pepper. 

The smell of the two peppers is also different. While in the case of supermarket pepper your nose will not pick up much aroma, in the case of Kampot pepper you will find yourself in a pepper plantation as soon as you open the bag. The moment you grind the pepper, you unleash a little storm full of not only the characteristic peppery aroma, but also notes of citrus, conifer, sweet fruit and more. But be warned - once you taste this pepper, you probably won't want another and will quickly develop an addiction to it. :)

We know the path of every peppercorn

One of the main reasons why our pepper is so much better than others is of course the unique location in which it is grown, but also the speed with which it is transported to the Czech Republic. We take the pepper directly from the farmers and ship it straight to our warehouses, so it can't be waiting in a dark, damp warehouses or storages somewhere before the next reseller shows interest.

What's more, with us you can be sure that peppercorns larger than 4 mm will always reach you. This is due to the export regulations of Kampot pepper, which are followed with the utmost precision, by hand and also with tweezers right here in Cambodia. In addition, once it arrives to Europe, we re-inspect such carefully imported pepper with laser optics on high-end food processing machines to ensure that you get only the purest quality Kampot pepper you deserve.