Kampot gold in chocolate, which even the Sultan of Oman couldn't resist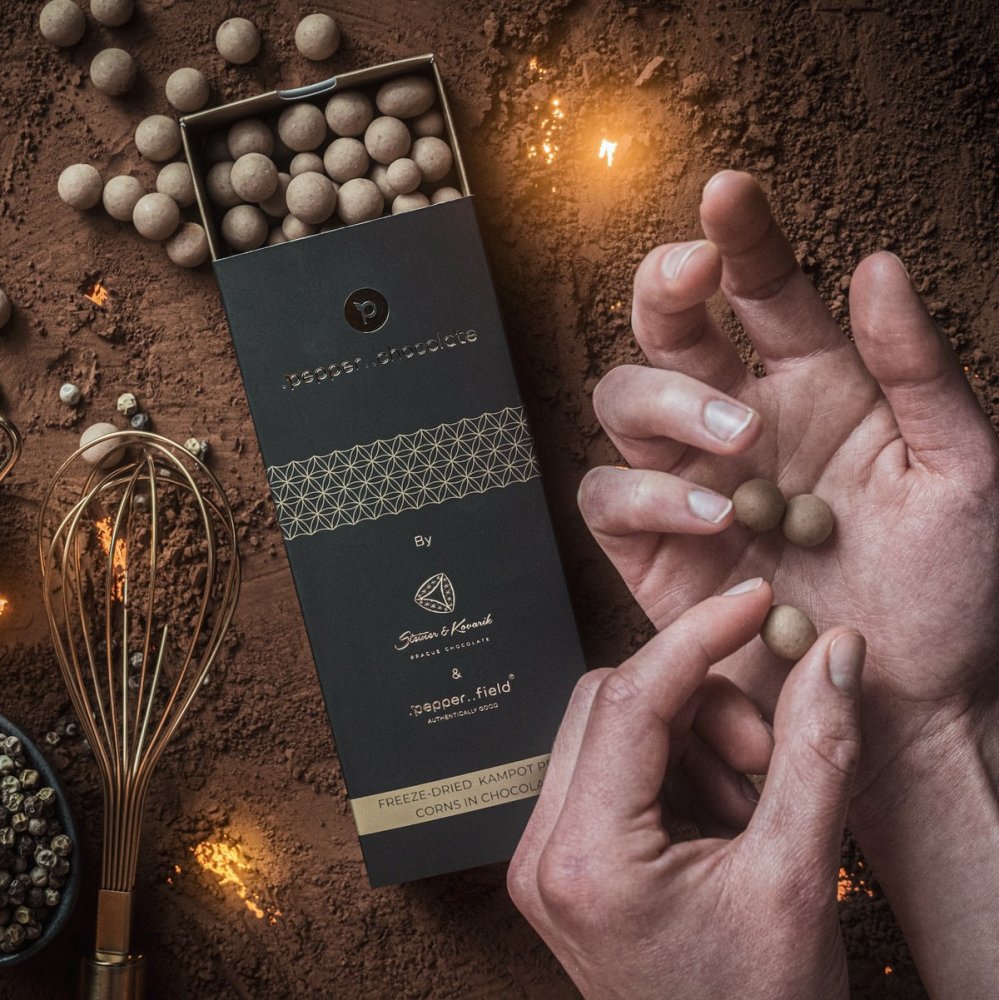 All good things are round. Our planet, a well-fed belly, and peppercorns. Thanks to our collaboration with Steiner & Kovarik chocolate factory, our chocolate bites with a little Kampot surprise inside are now also among the best round things.

Whenever we come up with one of our new products, we try to team up with the very best professionals we can find to create them. This was also the reason why we approached Silvia Steinerová and Petr Kovarik from the Prague chocolate factory Steiner&Kovarik, whose chocolate is decorated with a number of world awards and whose customers include the Sultan of Oman himself. No wonder, their unique concept of chocolate processing called Bean to Bar, where the chocolate factory itself has complete control over the entire production, is a sign of quality at first sight.

We decided to complement such exceptional chocolate with the most exceptional that .pepper..field has to offer. The choice immediately fell on our green freeze-dried pepper, which won us the gastronomic Oscar, 'Golden Fork' trophy at the global gastronomic competition Great Taste. 

So how about real white chocolate and freeze-dried pepper?

It is thanks to freeze-drying that we have managed to preserve the freshness and unique fresh taste of green pepper, which is complemented by the light saltiness of the brine in which it is kept before freeze-drying. Together with Steiner&Kovarik, we have wrapped this treasure in an extraordinary white chocolate with almonds, which is a gentle caress not only on the tongue, but also on the soul. 

And did you know that real white chocolate contains even more cocoa butter than typical dark chocolate? All the manufacturer has to do is keep the very valuable cocoa butter that is otherwise sold to the cosmetic and pharmaceutical industries. But this is exactly what Petr Kovařík does not do, so our chocobombs are also full of the highest quality and healthiest cocoa butter.

What does our peppery dragée taste like?

It's the 'dragée-maker' who plays a major role in the production. It's what makes these beautiful, symmetrical, velvety golden balls. Inside the chocolate dragée is a whole peppercorn, which gives the delicate treat a real kick. How intense it gets is entirely up to you and your choice. In each package you will find three sizes of chocobombs. While the largest ones are dominated by the taste of chocolate, which is subtly accentuated by the pepper notes in the background, expect a spicy ride in the case of the smallest balls, which you will enjoy immensely.

We've packaged everything in a luxurious gift box decorated in velvety black and bright gold, hinting at just how much of a luxury item is hidden inside.