Our pepper star: winner of gastronomic Oscar for lyophilized Kampot pepper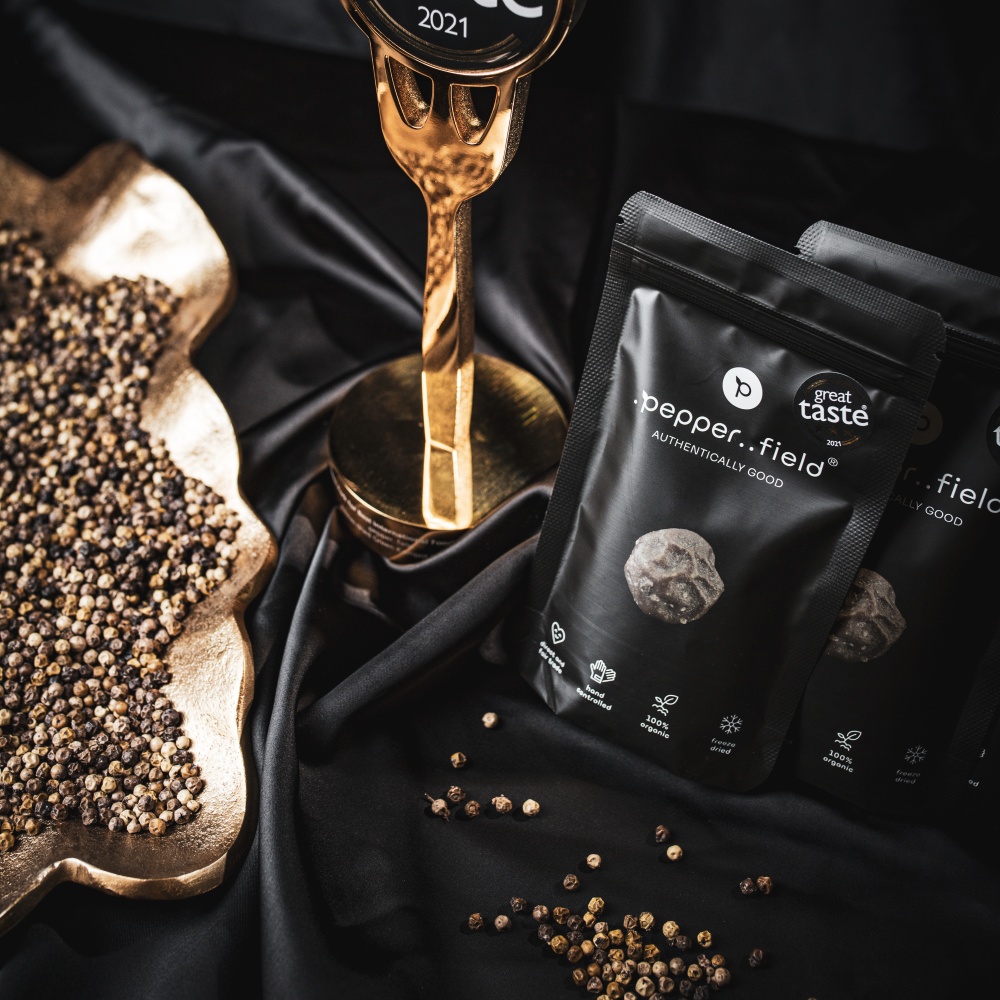 Absolutely one-of-a-kind in the world - this is freeze-dried fresh Kampot pepper with salt flower. The special lyophilization process guarantees that the food prepared in this way retains maximum freshness, quality and very intense taste accents. For Kampot pepper flavoured with salt flower, this process means a real taste explosion. This year, this was noticed by a selective jury of the Guild of Fine Food, which meets in London at the prestigious Great Taste Awards and who awarded it three stars. Kampot lyophilized pepper thus ranked among the 1.5% of foods awarded in this way.
For 27 years, the jury has been awarding the best food in the world. More than 500 judges evaluate all products that have been entered into the competition over two months. Each of them is carefully tasted blindly by top chefs, buyers, sellers, restaurateurs, and food critics. Now the lyophilized green Kampot pepper, which we import to the Czech Republic as a 100% organic fair trade product, has a place among them as another gold winner.
Food you can't find anywhere else in the world has
The judges at the Great Taste Awards are looking for a really great taste, regardless of brand or packaging. With lyophilized pepper, they can find more than that. "In the beginning, there was a desire to bring really fresh pepper to Europe. Its delicate taste is felt when fresh green peppercorns are plucked from the pepper vine, "describes Lukáš Hejtmánek, one of our founders, who significantly contributed to the development of lyophilized pepper from the beginning.
Freeze-drying is a process in which pepper grains are deep-dried by freezing and due to this process the pepper retains its maximum authentic taste, which is incomparable to any other type of pepper in the world. "When you adjust the pepper in this way, all you have to do is soak it in oil or any liquid at home and the ball absorbs moisture again and returns to the same form as it was just before it was picked," explains Lukáš. All interesting facts about the lyophilization process and recommendations on how to work with our pepper in the kitchen can be found in our article: Lyophilized Kampot pepper
The three stars mean one simple word in Great Taste jargon: 'Excellence'. It is an honor bestowed upon exceptionally delicious food, awarded to less than 2% of registered products from all over the world every year. The award itself should encourage you to give into the temptation and not miss out on the chance to buy such an exceptional product. In addition, you can be sure that your shopping experience is as sustainable as possible and supports a good cause.
Unique gastronomic with its heart in the right place
When we started our .pepper..field project in 2018, the Czech Development Agency also joined us. As part of a development program in Cambodia, which aims to improve the economic situation of small farmers, it also helped us to develop lyophilized pepper through the purchase of Czech LYOTRADE lyophilizers, on which the pepper is dried. In this way, a genuine authentic Cambodia product arrives at our customer's home, and in return he can be sure that he is helping individual people to live a better quality life in other parts of the world.
Chefs also like to cook with lyophilized pepper
Our lyophilized pepper is popular with renowned European restaurants. For example, Casa de Carli in Prague, has been working with our pepper, incorporating it into its menu, for some time now. It can now be found on the menu in London, when it was used by Master Chef finalist and one of the judges of the competition, Tony Rodd, as part of a Three-star dinner at the renowned Copper & Ink company. As the name of the dinner suggests, these were dishes composed of this year's star-awarded food. We can't wait to brag about some of the recipes.
It is an indescribable feeling to be ranked among the world's top foods such as the best cheeses, virgin olive oils, and such delicacies as oysters. It is an honor for us and we are beyond pleased that our fresh lyophilized Kampot pepper has been recognized as one of them.