Pepper and ice cream? Surprising combinations of traditional recipes with unconventional pepper!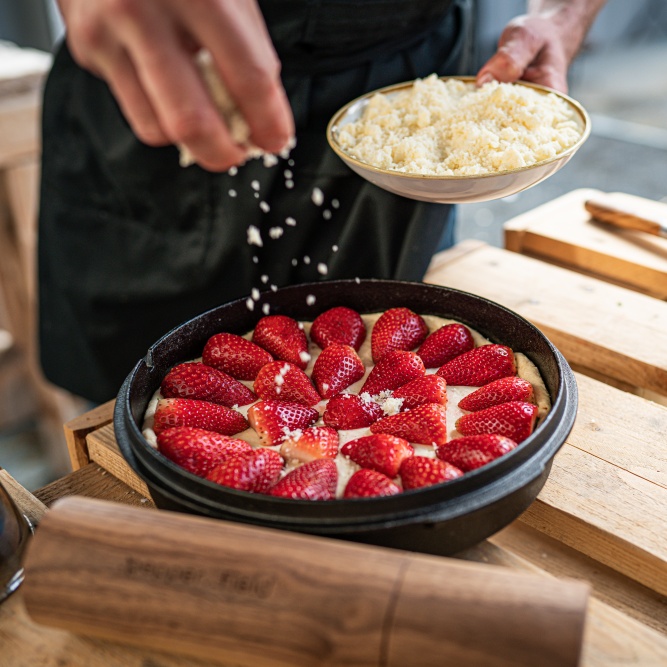 "I'd like a coffee, with milk and black pepper, thank you." These words would certainly make any waiter in a café stop and stare at the customer in disbelief after this order, wondering if he was joking. Believe it or not, black coffee is surprisingly good with pepper, as are many other recipes. So if you're one of those people who like things a little different, you'll enjoy today's article.
Who would have ever thought that pepper would get along so well with ice cream. Not that the black peppercorns are crushed with milk and then frozen, but if you crush fresh, high-quality pepper, such as the red Kampot pepper, and sprinkle it lightly over ice cream, especially those with a fruit component, you will probably be pleasantly surprised. Pepper can pleasantly enhance and accentuate the fruity flavour in ice cream.
In fact, pepper is very good with fruit in general. It has a particularly friendly relationship with red fruits, especially berries, strawberries and other berries that ripen in the summer months. Pepper gives a slightly fiery touch due to the sunshine they harbour, which we personally enjoy immensely.
If you're not one of those breakfast procrastinators and like to eat a healthy breakfast, you've probably already had the pleasure of oatmeal or muesli. However, these can get boring over time. That's where a pinch of pepper comes in, which adds an interesting flavour to the oatmeal, plus helps you in your quest to stick to a healthy diet and shed a few kilos.
Our natural .pepper..nut butters with red pepper can also be considered a healthy treat in reasonable quantities. Who would have thought, however, that the nutty taste is enhanced by a little pepper, which makes the nut butter an even better affair to add to your porridge or smoothie.
Salty yoghurt is definitely a healthy option too. For example, Greek yoghurt with a little garlic and the unique taste of Kampot pepper can be an unusual alternative to sweet yoghurt. At the same time, it is also great as a sauce for vegetables.
Last but not least, let's go back to that unusual customer request in the café. Pepper has a really interesting relationship with coffee, and if you add a few crushed, wrinkled balls to your favourite espresso, you will definitely leave the café refreshed and full of energy, like a devil out of a box.