Proper care of your pepper mill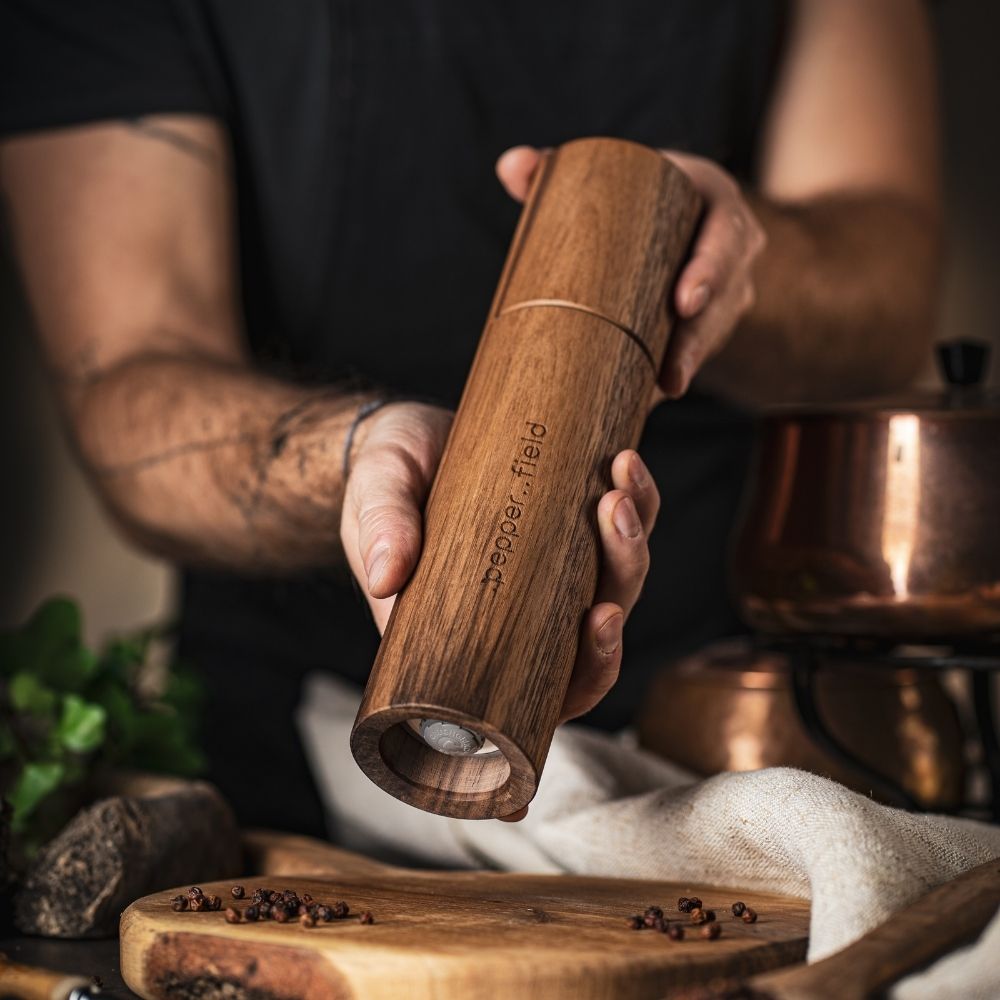 If you are a pepper lover, you certainly have a professional grinder at home, which helps you get to the heart of the matter when it comes to the genius of pepper flavors. Whether you own one of the luxury grinders that you can find on our e-shop, or you grind your Kampot pepper in another grinder, believe me, you need to take good care of it so that the crushing result is always perfect.
At the outset, it is necessary to say that grinding pepper has a huge effect on its taste, and therefore also on the taste of the food to which it is added. That is why it is always good to have the grinder on hand, and even more so in such a condition that it is able to crush the pepper perfectly.
To start, never fill the full capacity of the grinder. Ideally, only fill the body of the grinder as much as you need or to the capacity so that the grinding system is not overloaded. At the same time, avoid filling the spices with bare hands, but always use a spoon, funnel or other tool to help you quickly drive all the restless peppercorns into the grinder chamber.
It is very important to set the crushing level during grinding. In the case of our grinders, there are more than ten of these levels, each of which affects the roughness of the ground spice. It is the coarseness that can significantly affect the taste of pepper. The finer the grinding, the sharper the Kampot pepper is and its exotic tones are lost a bit. Yet, on the other hand, with the larger fragments, the sharpness is lost. The grinding coarseness you set depends only on your preferences and also on the food to which you add the pepper.
After crushing, the cleaning phase begins. Of course, you don't have to do this every time, but if you remember to clean the grinder at least once a week, you won't spoil anything at all. First, make sure there are no spices left in the grinder. Then remove the individual parts of the grinder so that none of the parts are lost, and start cleaning.
Usually just a small toothbrush is enough and all the dirt is willing to go away. Never use chemical cleaners on the grinder or soak it in water, especially if you use our wooden grinders. A drop of table oil and a cloth is enough to remove dirt reliably.
After cleaning, all you have to do is put the grinder back together, you can dab the grinding mechanism with a drop of olive oil so that everything runs smooth like butter and your grinder is again in perfect condition for further cooking. 
As for the position of the grinder in the kitchen, do not expose it to moisture or water by placing it too close to the sink and carefully keep your pepper and pepper grinder away from steam! If you follow all of these, your pepper grinder will serve you for a long time ☺