Strict packaging conditions for Kampot pepper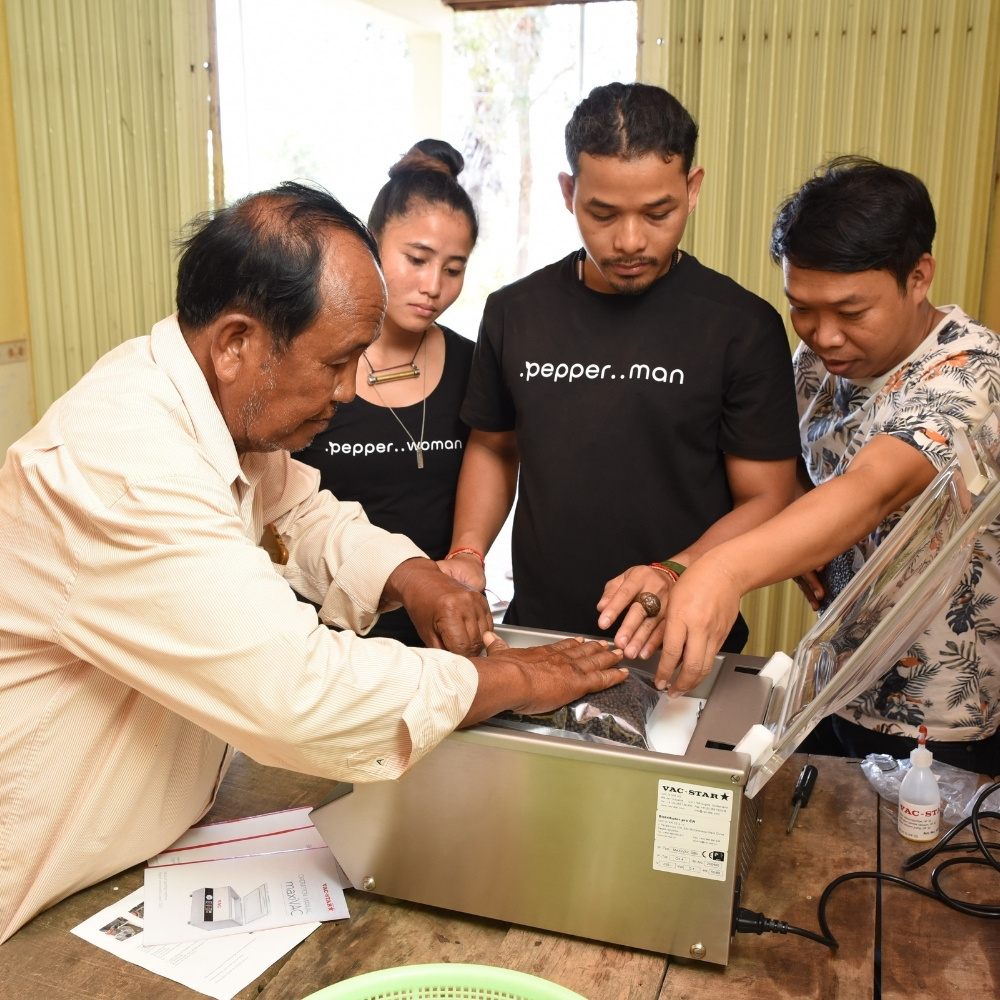 There are a number of rules that have been put into place regarding the cultivation of pepper vines - starting from when the pepper plants are mere seedlings. The pepper farmers in the province of Kampot are required to follow these rules to ensure that their peppercorns are of the highest standard. As we already know from previous posts on our blog, strict rules must be observed during the harvest, including the subsequent sorting and also storage of peppercorns. And their packaging is no exception in this regard. All this is summarized in the Book Of Specifications - an official document that defines all the parameters that this black treasure must meet before being exported from Cambodia.
The right packaging is a sign of the preservation of all the properties of pepper
Therefore, the grains are packed in food-approved packaging which does not react with the peppercorns, preserves its taste as well as its aroma, and protects it from moisture, pests, and other external influences which could reduce the quality of the peppercorns. For this reason, we were the first ever to purchase 10 vacuum machines for small farming families in the Kampot area with the help of the Czech Development Agency, which can process all the pepper from the farmers immediately after harvest.
Thus, our machines vacuum all the pepper we buy from the small farming families into 1kg packs. Thanks to this, the freshness and quality is guaranteed, and it reaches us in the same form in Europe. In our company, these vacuum packs undergo a secondary check on a machine with optical mechanics - "just in case the farmer's hands forget an little ant in the packet". ☺
We use locally sourced packaging materials from printers or glassworks, which become the vessels for delivery to your home. To make it absolutely clear what is hidden in the packaging and who is the producer of the contents, each package is provided with a lot number and an expiry date. 
However, part of the responsibility for whether Kampot pepper will maintain all its properties is up to you. Black, white and red pepper are all suitable for consumption for a maximum of three years from the harvest itself. In the case of grinding, black pepper can be used throughout the following year. However, we recommend that you consume it as soon as possible. With our lyophilized (freeze-dried) pepper, it is best to consume it within a few months, as it partially retains the properties of fresh pepper and is therefore more sensitive.
Enjoy the deliciously good taste by storing your pepper with love!