Tanned skin and calluses on the hands - growing pepper is not easy!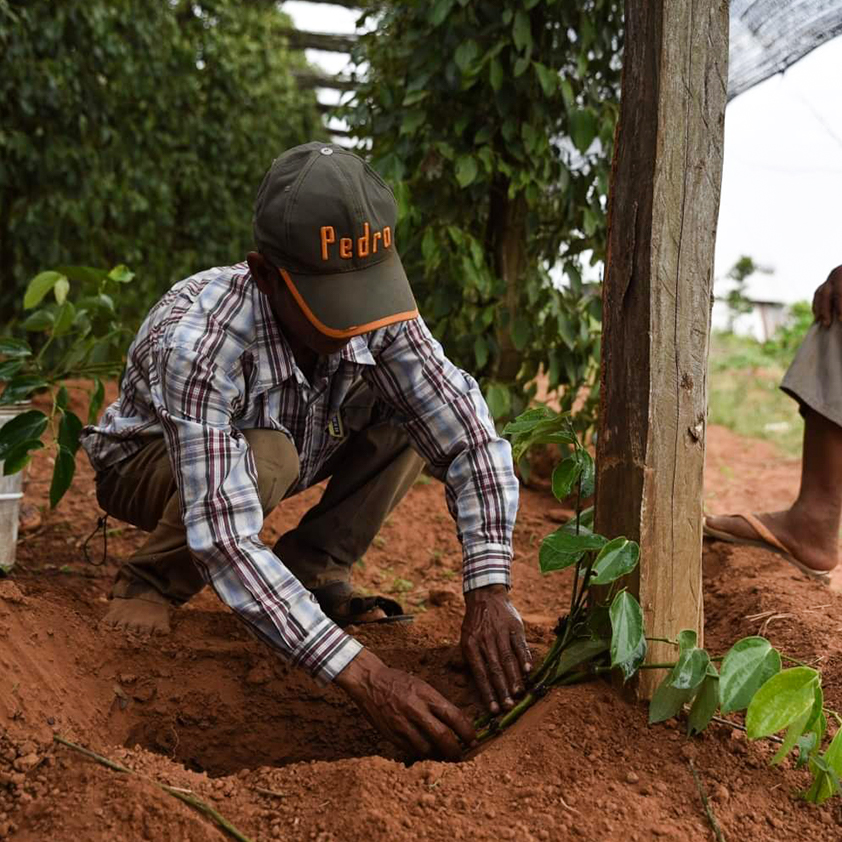 If you ever go to the Kampot region of Cambodia, you will certainly come across strange plantations covered in palm fronds that may resemble domestic hop farms. As you may have guessed, these are plantations of the black pepper tree, which, thanks to the favourable climatic conditions and the traditional approach to its cultivation, produces the best peppercorns in the world. These are the main livelihood of the few hundred or so local farmers who come to the plantations every day beneath the bright sun to take care of their black gold, as the local pepper is called.
Farmers have to cope with several natural elements
The harsh sunlight is the reason why the individual pepper plants are covered with palm fronds to protect them from scorching. The peaks of the Bokor Mountains also assist in this, providing much needed shade. 
However, the reason why the farmers are busy with their plantation every day is not the sun, but mainly pests. There are several ways to combat them. The less responsible ones use chemical pesticides, but you won't see their sprayed pepper here. Our pepper comes only from farms that deal with pests using traditional natural methods. These are supplemented by locally sourced manure which nourish the plants in the right way.
There's not a day goes by when farmers don't check all the peppercorns from their pepper plantations
The harvest season comes between February and May. This is when the hardest work begins, with farmers hand-picking individual bunches of Kampot peppercorns for further processing. The processing process is equally demanding, with the peppercorns being separated from the stalk, boiled briefly and then spread out on mats and dried in the sun, during which they acquire their characteristic colouring. Outside of the harvest season, farmers also have a lot of work to do, especially planting or checking the grains every day - red Kampot pepper, for example, is only harvested after the berries are fully ripe, so a day's work often only yields a cup of pepper.
After harvesting, each grain is carefully picked with tweezers (for size), packed and shipped. Growing pepper is therefore a very strenuous job that leaves your neck fried and your hands full of calluses. Worst of all, however, is the fact that farmers are not adequately rewarded for their hard work. And that's exactly what we're trying to change at .pepper..field.